DynaTouch can help VA MHV Coordinators substantially increase usage of My HealtheVet, while controlling costs. Using a carefully integrated system of self-service hardware, government-approved kiosk management software and Veteran-friendly content, DynaTouch offers a variety of OneSource Solutions™ for providing Vets with point-of-service access to the VA's patient portal - increasing awareness, enrollment, and continued active use.
TIPS MHV Express™
An interactive solution for boosting awareness and use of My HealtheVet. TIPS MHV Express is a fully-integrated system with a customized interface that makes it fast and easy for Vets to take advantage of the many patient services offered by My HealtheVet. It can also help new members get started with registration, upgrading or opting in - even for Vets with little to no Internet experience!
TIPS MHV Express will help you:
Increase enrollment in My HealtheVet
Increase "opt ins" for secure messaging
Increase awareness of new My HealtheVet features and services
Increase Veterans access to appointments, medical history, prescription refills and healthy living information
Support VA's national goals for MHV usage and opting in
Improve Veterans satisfaction and patient experience with it's ease of use
- Already proven successful in a large number of VA facilities nationwide.
- Fully compliant with HIPAA, ADA, Section 508 and JCAHO requirements.
- SDVOSB and SBE/WBE procurement supports the VA's SB contracting goals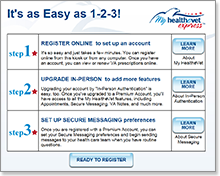 TIPS MHV Express includes a guided presentation with easy steps for 1) registering, 2) upgrading/authenticating their account, and 3) opting in to secure messaging, along with easy-to-read instructional/educational displays. It encourages Vets to enroll or to access their account to see what's new. The interactive solution is designed for use on a multi-user workstation, kiosk, tablet or other mobile device.
Content is presented in a professionally branded format, with rich graphics that entice users to engage, and large button selections that make it fast and easy for them to do so. It includes pre-designed attract loop graphic displays, mainmenu/home display, sub-menu displays, plus easy-to-read displays with useful instructions, comparisons, pointers, and helpful tips. Registered users can bypass the introductions and instructional pages and proceed directly to the My HealtheVet login page or to other information about healthcare, the local VA or surrounding community.
Government-Approved Software
All TIPS MHV Express solutions come with TIPS Kiosk Management Software™, our proprietary secure browser / lock-down software which:
Manages user sessions and the day-to-day interaction with the user
Restricts access to unauthorized sites
Logs system 'heartbeat'
Tracks and reports usage statistics
Allows for remote updates on any day at any time
And much, much more!
TIPS software has already been approved to operate on some of the most secure healthcare and government networks that exist, including the Military Health System and Defense Health Agency, VA, SSA, FBI and others.
TIPS MHV Express solutions also come with a subscription to TIPS Online™, our password-protected cloud-based Customer Service Center, where authorized administrators can submit problem notices, view system status, view and print system usage data, receive automatic email reports, upload new screen savers, manage authorized URLs, and submit content change requests.
Popular Form Factors for TIPS MHV Express
Multi-User Workstations
When budgets are tight, TIPS MHV Express can be installed on any under-utilized Windows-based workstation you already have. We convert your existing hardware into a secure, locked-down, user-friendly customer service station that allows Vets access to their My HealtheVet account (and lots more) during their visit to your facility.




Laptops / Tablets / Mobile Carts

When mobility is important, we offer a variety of laptop, tablet and mobile cart form factors.

Convertible Laptop
w/ Mobile Cart (T1MC)





Sit-Down & Floor Standing Kiosks

When space permits, and ruggedness is important, you can choose from the following sit-down and floor standing kiosk models. The Sit-Down Desktop (S1) model seems to be the most appealing to most Veterans, since it accommodates a standard keyboard with a standard mouse. Many Vets are not comfortable with the rugged keyboard/trackball devices provided with standard kiosks. The sit-down models offer a relaxed environment, giving Vets plenty of time to complete lengthy applications.

Sit-Down Desktop w/
Std Keyboard & Mouse (S1)

Floor Standing
Kiosk (F1)

Floor Standing
Kiosk (F2)





Countertop & Wall-Mount Kiosks

When foot space is limited, countertop or wall-mounted kiosks are better solutions.

Countertop Kiosk
w/ Privacy Wings (C2)

unlimited possibilities.

Full Regulatory Compliance

Our TIPS MHV Express solutions have full regulatory compliance. Specifically they:

Meet all Health Insurance Portability and Accountability Act (HIPAA) regulations
Meet all Americans with Disabilities Act (ADA) and Section 508 regulations
Are compliant with the Joint Commission on Accreditation of Healthcare Organizations (JCAHO)
Request a
No Obligation Quote
and/or a Product Demo
Download our
Product Handout
Read a
Veteran Spotlight
"I really like these systems. Easy to use touch screens. I can pull reports showing me which ones are being used the most by location, and the time of day they are being used the most, and they have a heartbeat connected to DynaTouch in San Antonio. When one of them goes down, I get an instant message notifying me. I then call the location and it is usually just a reboot that fixes them. I then get an alert telling me they are up and running. If you need any information on these, I am more than happy to send it to you. They are awesome."

Altoona VA
MHV Coordinator
"...very responsive, friendly, attentive and proactive. Worked to meet the needs of the My HealtheVet program and tailored the My HealtheVet interface to meet the specific objectives of our VISN and its Medical Centers. Utilization reports allow us to identify kiosk locations that serve the greatest patient volume. Uptime reports practically eliminate our reliance on non-MHV staff to notify us when MHV Express systems are offline. DynaTouch reporting software helps us to optimize Veteran access to My HealtheVet's online tools and services. The first year using DynaTouch's solution (FY13), our VISN lead the nation in the percentage of patients opting in to Secure Messaging-our key performance measure."

VISN 10
MHV Coordinator