DynaTouch can help you substantially increase awareness and usage of your ICE surveys by extending the reach at the point-of-service - in a safe, secure and controlled environment. Using uniquely integrated touchscreen technology and a tailored, user-friendly graphical user interface, our TIPS DoD ICE™ solution makes it easy! Our OneSource Solution™ package includes everything you need - hardware, software, content, services and support. - available as a fully-integrated, turnkey system. If you already have your own hardware or a preferred source, just let us know and we'll provide the rest! TIPS DoD ICE™ is designed for use on any Windows-based kiosk, tablet or workstation, or any Android device.
TIPS DoD ICE™
Already proven and deployed on Army, Air Force, Navy and Marine Corps installations, DynaTouch kiosks provide a secure, user-friendly, menu driven touch interface to your existing ICE website for respondents to quickly find the facility or service they would like to rate. Our unique module allows one-touch access to a specific service comment card, while a handy side-bar offers access to all other comment cards for your facility. With this simple layout, your customer doesn't have to spend time reading through lists and guessing which card they should use, yet they still have an option to look up and rate other services, if desired. The goal is to provide more realistic and higher quality survey responses due to the convenient location and simple operation of the DynaTouch kiosks.
Fast, easy, secure access with:
Intuitive, touch-friendly graphical interface
Professionally designed attract loop graphics
Tailored for each facility or service area
Customized with secure access to Military Portals (Relay Health, TRICARE Online, AKO, NKO, etc.), your own web page, and/or other approved military sites
Government-approved software
Built-in system monitoring and usage tracking
ADA-compliant w/ user-adjustable zoom controls
- Already proven successful in a large number of DoD facilities around the globe.
- Fully compliant with HIPAA, ADA, Section 508 and JCAHO requirements.
Featured Project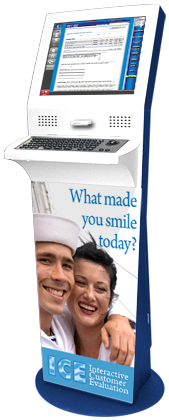 Naval Hospital Jacksonville placed 25 TIPS DoD ICE kiosks at strategic locations throughout their medical treatment facilities to increase the number of responses from customers. The systems have been in operation since 2006. They were a huge success when first installed, were upgraded in 2011, and still going strong today. The responses gathered have helped hospital management gain a larger share of customer opinions, and have been instrumental in affecting numerous policy changes and improving customer satisfaction and service levels.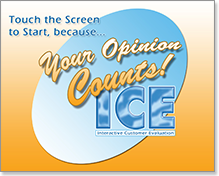 Content is presented in a professionally branded format, with rich graphics that entice users to engage, and large button selections that make it fast and easy for them to do so. Multiple attract loop graphics are rotated on the monitor to attract passersby. With one touch, the specific comment card for the specific service is presented, with an easy-to-use side bar that displays other comment card options in handy reach, along with other customized content specified by the location.
The slim, upright kiosk enclosure includes a touchscreen monitor with a privacy filter, an optional rugged keyboard for entering comments (TIPS software can also be configured to present a virtual onscreen keyboard when user input is needed), and an integrated DoD-approved CAC reader for logging onto military portals (Relay Health, TRICARE Online, AKO, NKO, myPay, etc.).
Government-Approved Software
All TIPS DoD ICE solutions come with TIPS Kiosk Management Software™, our proprietary secure browser / lock-down software which:
Manages user sessions and the day-to-day interaction with the user
Restricts access to unauthorized sites
Logs system 'heartbeat'
Tracks and reports usage statistics
Allows for remote updates on any day at any time
And much, much more!
TIPS software has already been approved to operate on some of the most secure healthcare and government networks that exist, including the Military Health System and Defense Health Agency, VA, SSA, FBI and others.
TIPS DoD ICE solutions also come with a subscription to TIPS Online™, our password-protected cloud-based Customer Service Center, where authorized administrators can submit problem notices, view system status, view and print system usage data, receive automatic email reports, upload new screen savers, manage authorized URLs, and submit content change requests.
Popular Form Factors for TIPS DoD ICE
Floor Standing Kiosks

When space permits, and ruggedness is important, you can choose from the following floor standing kiosk models. These models offer sleek looks, and include professionally designed ICE graphics to attract your customers. Add further visual impact and select from our full range of custom overhead and panel signage options.

Floor Standing
Kiosk (F2)

Floor Standing
Kiosk (F3)





Countertop & Wall-Mount Kiosks

When foot space is limited, countertop or wall-mounted kiosks are better solutions.

Countertop Kiosk
w/ Privacy Wings (C2)

Laptops / Tablets / Mobile Carts

When mobility is important, we offer a variety of laptop, tablet and mobile cart form factors.

Convertible Laptop
w/ Mobile Cart (T1MC)





Multi-User Workstations

When budgets are tight, TIPS DoD ICE can be installed on any under-utilized Windows-based workstation you already have. We convert your existing hardware into a secure, locked-down, user-friendly customer feedback station that allows military and family members the ability to provide instant feedback during their visit to your facility.





unlimited possibilities.

Full Regulatory Compliance

Our TIPS DoD ICE solutions have full regulatory compliance. Specifically they:

Meet all Health Insurance Portability and Accountability Act (HIPAA) regulations
Meet all Americans with Disabilities Act (ADA) and Section 508 regulations
Are compliant with the Joint Commission on Accreditation of Healthcare Organizations (JCAHO)
Military OneStop Kiosks
Government Contracts
Air Force Clients
Army Clients
Navy Clients
Marine Corps Clients
Request a
No Obligation Quote
and/or a Product Demo
Download our
Product Handout
"I love the kiosks and want to buy more. Our ICE comments have gone up from 150 per month to well over 500. Customer satisfaction is consistently above 90%. Also, our Relay Health enrollment went from 12% to 30% in just 1 week."

NHC New England
Patient Relations Coordinator
"The ICE Kiosk project has been my little baby and I could not have asked for it to be more successful"

Naval Hospital Jacksonville
IT Systems Manager
"DynaTouch's customer service is second to none. It is so nice to actually call and get a live person and not to be routed to through a maze of directions to eventually be told to leave a message. In fact, I have only had to leave a message on one occasion. My customer service rep either addresses my concerns on the spot or gets technical advice back to me in minutes. Extremely knowledgeable and helpful."

Naval Hospital Bremerton
Customer Relations Officer