Empower your patients to take control of their health with DynaTouch's award-winning self-service patient education solutions. DynaTouch has the experience needed to help you provide patients and visitors with engaging and relevant health information at the point of service, while still maintaining a secure, controlled, 24/7 public-access system.
We will help you select the right hardware platform for the unique needs of your target audience, and then work with you to select and/or tailor the perfect user-friendly interface to match those needs. Our OneSource Solutions™ package will include all of the hardware, software, content, services and support needed for a fully-integrated, ready-to-run, turnkey system. Or, if you already have hardware or a preferred source, and/or want to create your own content, just let us know!
Kiosk-Friendly Content
Customizable User Interface
Intuitive, touch-friendly design
Multiple language capability
Optional one-touch print feature
Easy to integrate 3rd party apps:

McKesson
My HealtheVet
HealthWise
Krames Online
Appointments check-in
And more
TIPS Plug & Play Content Modules
Health & Wellness OneStop™
IHS Journey to Wellness™
VA Patient Education & Services™
Stop, Look, & Listen to Your Health™
All About Diabetes™
Cool Tools & Videos
Interactive Health Tutorials
Vaccines/Immunization Videos
And more (call for current options)
Kiosk Management Software
All TIPS kiosks are powered by TIPS Kiosk Management Software™, our proprietary secure browser / lock-down software which: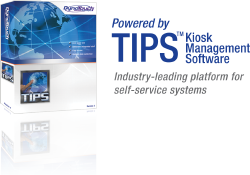 Manages user sessions and day-to-day interaction
Restricts access to unauthorized sites
Logs system 'heartbeat'
Tracks and reports usage statistics
Allows for remote updates on any day at any time
And much, much more!
TIPS software has already been approved to operate on some of the most secure healthcare and government networks that exist, including the Military Health System and Defense Health Agency, VA, SSA, FBI and others.
TIPS kiosks also come with a subscription to TIPS Cloud™, our password-protected cloud-based Customer Service Center, where authorized administrators can submit problem notices, view system status, view and print system usage data, receive automatic email reports, upload new screen savers, manage authorized URLs, and submit content change requests.
Enclosures, Hardware, Services & Support
DynaTouch can fulfill all of your Self-Service Patient Education requirements with our OneSource Solutions™ package, which includes all of the hardware, software, services and support needed for a fully-integrated, ready-to-run, turnkey system. Or, if you already have hardware or a preferred hardware vendor, just let us know!
Kiosks, tablets, workstations
Upright, sit-down, wall-mount, countertop models
Multitude of peripheral device options
Comprehensive deployment and support services